By ClickRSVP Analytics
Back in March 2020, when COVID gathered critical mass, it became imperative for banks to reach as many of their customers as possible to keep them informed of changes in branch hours and transaction processing. Critical information needed to be updated and delivered to as many customers as possible within short time frames.
Enter Email… Back before the prevalence of online banking products, banks did not rely on or use email for customer communications, due to lack of data (and backend support for email data.) That has evolved to where some financial institutions today boast an email connection for 50% or more of their customer base. Social media has a typical customer following in the single digits.
Email continues to provide both reach and timeliness, making it ideal for communicating critical information. With some additional data in the mix, the concept of relevance begins to take shape. In turn, relevance can be in the shape of segmentation (1-to-many) and personalization (1-1) … powerful communication tools.
The banking industry's Herculean efforts to reach and inform customers entailed multiple channels: website, signage, direct mail, print advertising, social media, partner communications, as well as email. In this context, email is seen and defined as "operational messaging" vs. marketing email.
Creating a Cohort … With over 100 bank clients, we had an opportunity to treat these messages as a cohort, which provided some unique insights on email performance. During the 3.5 month period of March 15 – July 30, at least 20% of client messages were explicitly about COVID, as stated in the subject line. While many other messages included COVID information in the content, the subject line (and sender) are what drives email Open rates.
Tracking this cohort allowed us to aggregate response data over multiple, connected deployments. While a single campaign can provide snapshot of response metrics, combining data on unique responders across multiple related deployments presents a deeper picture of subscriber engagement.
For instance, the Average Unique Open Rate for individual COVID campaigns is 36%, which is respectable. But when you add two or three more similar messages, the combined average open rate (we call it "Effective Reach") jumps to 56% – an increase of some 50%. This makes sense. People may ignore the first message, but seeing a repeat or slightly different subject line would increase naturally response. In this case, significantly, as the pandemic evolved and became a more relevant matter.
The graph below details some dimensions of the COVID email response, compared to non-COVID messaging during the same period.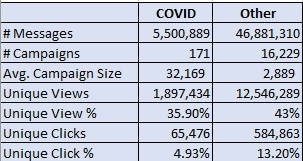 Repeat Messages Improve Effective Reach…
During the first few weeks, most banks continued to send updates on branch hours, operational notices, etc. When combining the overall unique customer reach of these additional messages, the numbers improved significantly.

Banks that sent only 1-2 COVID-specific message saw an average Effective Reach of 42%. In comparison, those banks that sent 3-5 messages saw an Effective Reach of about 55%. In an industry where even 1% can be considered significant, this difference is notable. However, additional sends beyond 3-5 messages did not measurably increase Effective Reach.
And there is a limit ….
In charting the engagement rate of these messages, we see a gradual decline in overall unique open rates as the number of messages increase. This is a natural progression, as customers shift their information sources to bank websites and social channels. In comparison, unique open rates for non-COVID messages remained consistent across the same time period.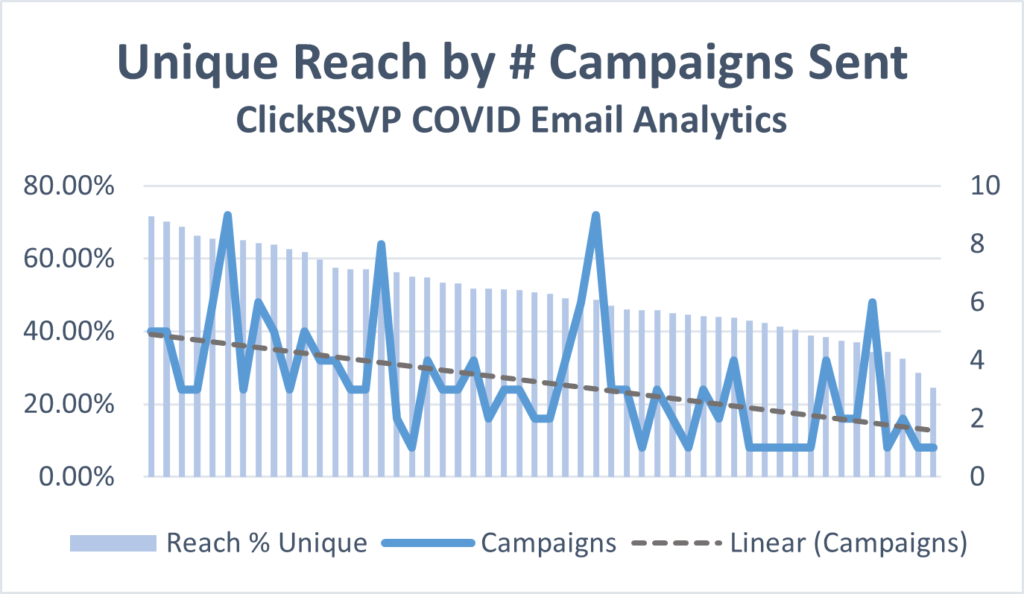 The distribution of Effective Reach is remarkable in its span. Some banks enjoyed an impressive 70% Effective Reach, while others saw limited success with reach under 30%.
Conclusion: Email Ranks First for Effective Reach
For most of our bank clients, using email proved quite effective at reaching customers for which they have current email addresses. A recent client survey revealed that email ranked as the most important / effective channel for communicating COVID information to customers, with websites and social media virtually tied for a close second.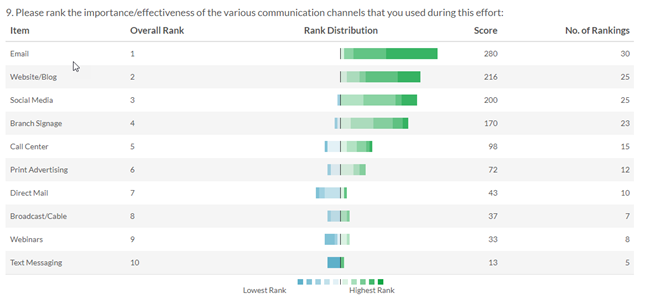 Clients also indicated that email was effective at reaching bank customers, with 90% of clients indicating that they reached 41% or more of their customers via email. Of those, 60% felt that they reach a majority of their customer base (more than 61%).

SUMMARY:
Email proved to be an important, if not vital, component of banks' efforts to reach their customers during the pandemic. Email is especially effective at the beginning of an event, since it can be deployed and consumed quickly without customers having to find the information on websites and social media.
Repeated campaigns to the same group of recipients improve reach and message visibility, but only up to a certain point. This can be attributed to message fatigue, as well as the ability for customers to access up-to-date information on websites and social media posts. To reduce message fatiguing, avoid sending the same exact message to someone that has already viewed / opened it unless it makes sense (i.e.- an important reminder.) This can be done with most professional email platforms.
Consumers are receptive to email from their financial institutions. COVID- related messages saw an email Effective Reach of 44% and a median of 36%, while non-COVID messages experienced an average unique open rate of 43%.
Bank marketers favored email for this type of customer communication, but also cited their website and social media as important and complementary channels. Many clients include a link to their blog in their emails, so that customers can easily access fast-changing information.
Having the ability to reach customers quickly via email should be a mission-critical goal of every financial institution. This requires a consistent and persistent effort to capture email addresses at every touchpoint.
BACKGROUND: This study was compiled from an analysis of 52 bank clients sending 5.5 million COVID-related messages between March 15 and July 30, 2020. While many other messages contained references to COVID, this focuses only on campaign messages where the words "COVID" or "Pandemic" appeared in the subject line. This provided a level playing field to measure the first component of subscriber engagement: unique open rates. Click rates were not measured due to inconsistent calls to action.
ClickRSVP is a full-service, bank-focused email provider, and has been delivering email for hundreds of banks for more than 20 years. Visit www.clickrsvp.com for more information.