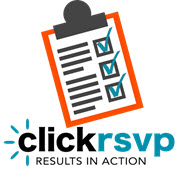 If you've hit a wall with your current email provider, maybe you need an expert on the case. ClickRSVP, with more than 20 years of experience in actual, hands-on financial email can help. Our team of email professionals will analyze your current program and show you exactly how to level-up your program.
Increase subscriber engagement
Improve response rates
Process and track leads to your sales team
Streamline data updates and synchronization
Deliver responsive emails with dynamic and real-time content
Integrate surveys, events, automation, onboarding and more…
Experience hands-on, expert support you can count on
Need to reach more of your PPP customers via email? We have compliant solutions that meet your needs!
Email plays a critical role of nurturing and closing your digital efforts, so it's important to have a robust, integrated email program. Learn for yourself how we connect the dots (and check all the boxes!)
Contact us for a FREE consultation and demo today!