| Ray Parenteau – President |
Another September, another ABA Bank Marketing Conference in the books. We've been attending these events for more than a dozen years now. They're all unique, and this was no different. Austin is quite the city — hip, diverse and definitely musical. Oh, and did I mention HOT??
The vibe brought out the "party" in everyone – with several vendors helping to make it lots of fun. The sessions were well-attended and bank marketers swarmed the exhibit hall with curiosity and determination.
A giant *HIGH FIVE* to everyone involved in putting all this together.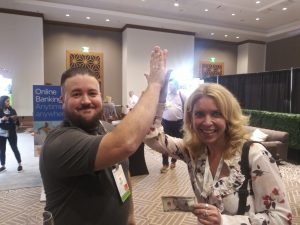 ClickRSVP brought some team members, who were new to this conference, and we couldn't have picked a better place or time for that introduction. With "State Fair" as the theme, we all enjoyed a relaxed, friendly "hometown" vibe that led to many smiles and High Fives (which was the theme of our booth.) We visited with clients, met new folks and shared war stories with other service providers.
It's a busy time of year, but it's a great time for bank marketing as strategies get polished and prepped for upcoming budget season. Which leads to the inevitable plug: don't forget to fund an adequate email program. While digital media costs soar (and the digital landscape becomes ever so crowded), email remains a key, personal connection point for customer education, retention and cross sell. As a wise bank marketer once said (at an ABA Bank Marketing Conference): don't build your house on rented land. Your email database is yours to nurture, reap and sow. And ClickRSVP is here to help.